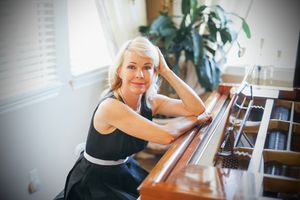 When Lisa Linsky was four years old, she discovered an old upright piano, buried under "tons of treasures" in the family garage. Upon playing her first few notes, Lisa immediately felt a connection with the instrument - a connection shared with her grandmother and great grandmother, who were both accomplshed concert pianists. 
However, Lisa's music studies had to share time with her career as a child actress in Hollywood. Young Lisa was featured in numerous commercials and also appeared in movies, alongside of such notable actors as Robert De Niro, Shelley Winters and Bruce Dern. One of Lisa's fondest childhood memories is of playing the piano with actor Jack Lemmon on the set of "The 
Fortune Cookie", in which Lisa played the role of Walter Matthau's daughter, Ginger. 
Although family friend and celebrated composer Henry Mancini had recommended Lisa to attend the Juilliard School of Music, after her acting career, Lisa chose to focus on raising a family. For several years, the piano remained Lisa's private sanctuary, while she raised her six children. It wasn't until her children were grown, along with the encouragement of her award-winning composer and recording 
artist husband Jeff Linsky, that Lisa began sharing her music with the world • and the response has been overwhelmingly positive. 
"Angels Among Us by Lisa Linsky is an album any serious fan of the solo piano genre must have at all 
costs, a full flowing and passionate tale, told by a pianist who is truly in touch with her musical muse." 
~ Steve Sheppard, One World Music Radio 
"Lisa is obviously a very accomplished pianist, but it is the depth of her heartfelt music that will draw you in and make you want to keep listening. 
~ Kathy Parsons, Mainly Piano (mainlypiano.com) 
It should be noted that Lisa lives with a rare condition called otosclerosis, a progressive disease of the inner ear, which can lead to total hearing loss. After six ear operations, she has very diminished hearing, which makes her experience as a passionate pianist and composer all the more precious